While the headline suggests that it's going to dunk on the new Integra, in fact it's a love letter to the 1997-2001 Integra Type R and why it doesn't get any better than it as far as cars go.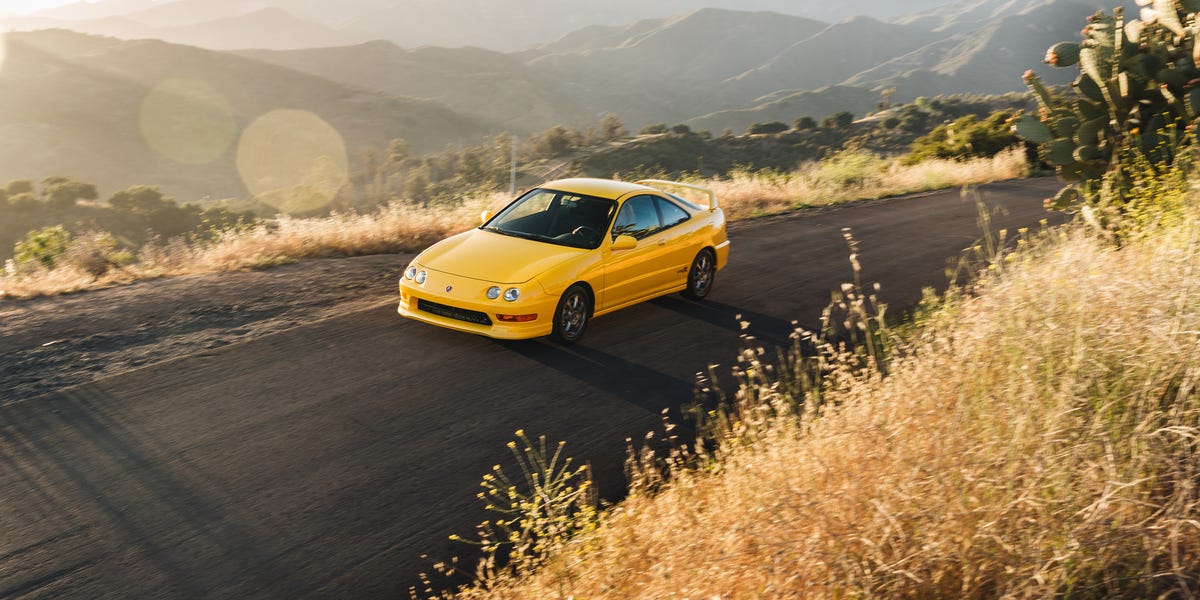 "Progress is not an illusion, it happens, but it is slow and invariably disappointing." —George Orwell
www.roadandtrack.com
Progress is the hope built into the human soul. Things will get better; small changes become big improvements; Utopia is only a few tweaks away. People instinctively crave progress. But unchecked, progress can also overwhelm the already near-perfect. Like, duh, the 1997 to 2001 Acura Integra Type R.
The Type R's doors open with a brittle twang and shut with the vibrato of rippling sheet steel. Inside there are no cup holders, there's a single-DIN radio in the double-DIN dash hole (so there's room enough to add a Circuit City equalizer), and the horn buttons are on the oversize steering wheel's spokes because airbags aren't for honking. The instrumentation is big dials under a single hood, and they glow red at night. The front seats are flat but side bolstered, and there's never a crime severe enough to sentence an adult to the back seat. The ventilation-control sliders could be out of a 1967 Ford F-100. This car is both a relic of digital history and a glimpse of an analog future that might have been.
With its cowl barely reaching hip level and delicately thin pillars, the Integra looks almost inconceivably small to 21st-century eyes. Today, massive grilles, thick stampings, and general intimidation are built into almost everything. The Integra seems wispy, but not wimpy. In turn it makes today's behemoths look bloated and silly.
The particular 2001 Type R on these pages is the one that shows up all over the place for people who are watching for it. It's the example Honda holds in its museum stash. It has a bit more than 5000 miles on its odometer, and the only deviations from how it emerged from Honda's Suzuka plant in Japan are Dunlop Direzzas in place of the original Bridgestone Potenza RE010s and a new battery. Time kills rubber and batteries, and Bridgestone simply doesn't make those archaic tires in the Type R's puny 195/55R-15 size anymore. It's a preserved-in-amber example. It sold new 20 years ago carrying a $24,000 sticker price. It's worth, in the current red-hot market, what? $100K? More?
Acura produced just under 4000 Integra Type Rs for America between 1997 and 2001 (no 1999 Type R made it here). They were received rapturously in a country that then supported thick, ad-heavy magazines like
Sport Compact Car
,
Super Street
, and
Turbo
. The Type R deserved all its accolades as the best-handling front-drive car of all time. And most of the people who bought them immediately got to work screwing them up.
They bolted on massive 17- or 18-inch wheels in place of the 15s to devastate the handling. They goobered the engine's knife-edge brilliance with insane intakes and exhaust systems whose tips were the size of Pratt & Whitney JT8D turbojets and scorched the bumper covers. They cut the springs, butchered the shifters, and installed uglification-optimized body kits. Oh yeah, and then there was the epic stupidity of adding turbos and superchargers to the glorious, hand-assembled B18C5 engine.
Stock, it's but 1.8 liters and rated at only 195 hp. Small children put out more torque inflicting purple nurples, but the B18C5 is still a thriller. Nothing happens down low, but as the tach needle swings past 6400 rpm, the high-end cams kick in and the revs go rabid gerbil to the 8400-rpm redline. The high-tech digital element of the Type R is the VTEC system. VTEC made its way here first in the 1990 NSX, but it's the Integra Type R that sings the song vividly. There are five gears to stir, but the engine could use another seven or eight. Keeping the beastie spinning brings joy—and something eerily similar to speed. It's an engine designed and optimized to barf under boost. But to the tuner culture of its time, projectile vomiting was considered a net positive.
Amid the cacophony of its minimally insulated cabin, the Type R feels vastly more mechanical than anything that can be bought new. Its hydraulic power steering returns instantaneous response, its small tires don't murder the pavement but caress it, and its shifter works with the deft delicacy of a soufflé. The brakes? Try to not use those things. Kill the momentum and there's no torque to regain it. The Type R was raced relentlessly, but it's best appreciated as a full-immersion entertainment experience.
If you want an Acura to drive straight into a wall, get a new MDX. But if what matters is mechanical seduction, get an original NSX or a preserved Type R. Or, even better, get both. Then drive them. Hard.
Imagine an automotive world built around the Type R's virtues. Where crossovers never caught on and minimal mass was a cultural obsession. A world where the excited anticipation of the next morning's commute would keep people up at night. A world where CarPlay, Android Auto, Slack, Facebook, TikTok . . . all that digital noise was dismissed as a distraction from driving. A better world. Maybe even a perfect one.
George Orwell died in 1950, when the pace of change was accelerating. Now progress is even more fast-paced, dizzying. Maybe Utopia was achieved with the mostly analog and slightly digital Type R and few of us noticed. Maybe Utopia wasn't a final destination, but a little car overwhelmed by high-velocity "progress." Maybe Utopia was a speed bump.