The 2023 Acura Integra is expected to come with a 2.4-liter inline-four or 1.5-liter turbocharged inline-four in regular versions. A hybrid option is also possible. The high-performing Type-S model should get the same K20C1 engine from the current Civic Type R.
Of course, this is all speculation but what does everyone think our options will actually be?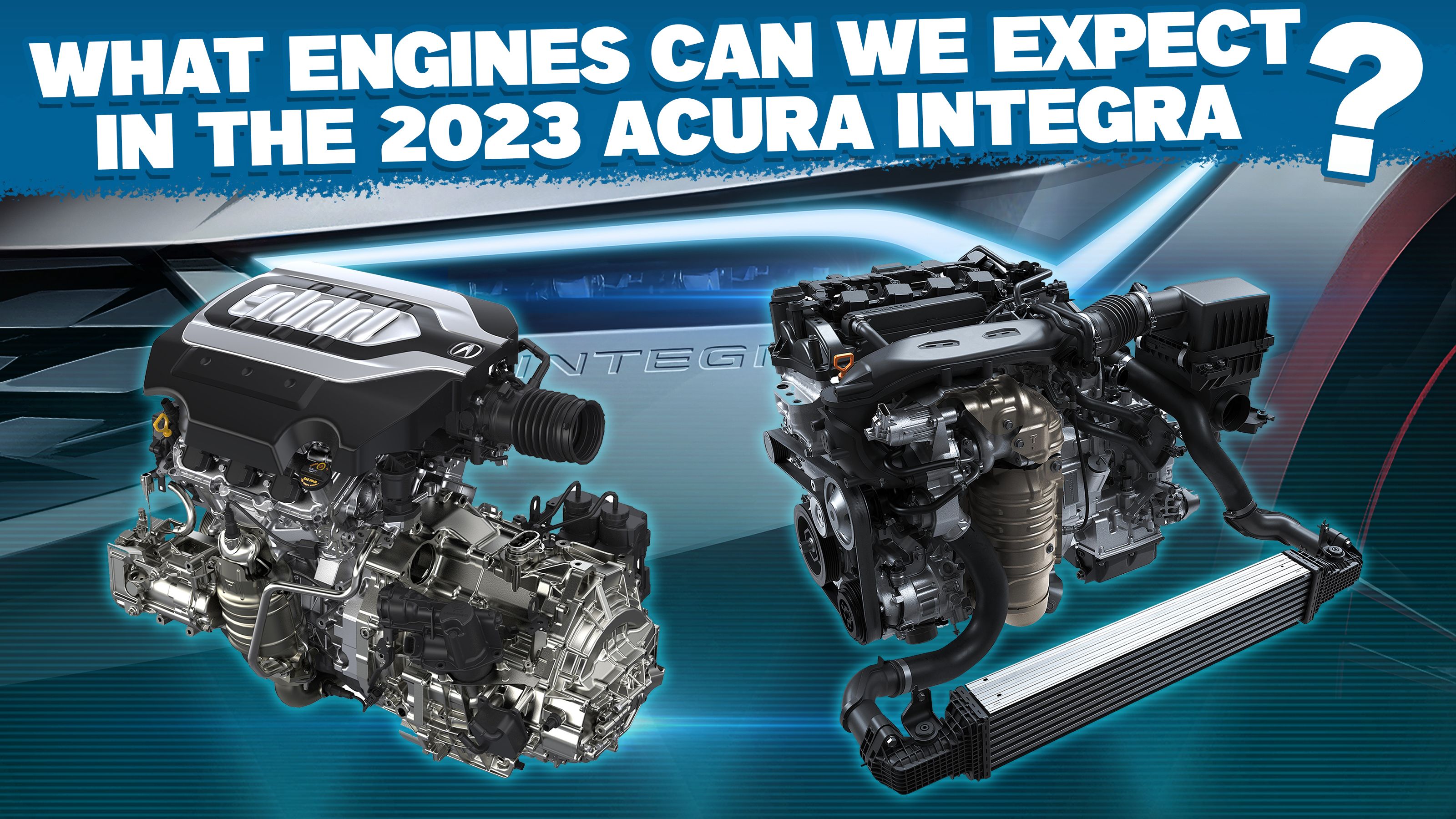 The 2023 Acura Integra is happening. Here's what Engines We can expect
www.topspeed.com
The 2023 Acura Integra is happening. Here's what Engines We can expect
By now, it's obvious that Japanese carmakers are resurrecting some of their most iconic names from the past. Currently, we have the Toyota GR Supra, and the recently unveiled Nissan Z. Not too long ago, Acura CEO and Vice president, Jon Ikeda, confirmed that Acura Integra is also making a return as a 2023 model. With this in mind, many are wondering what engines it will come with. Here are the most likely engine options we could get.

IT WILL NOT HAVE A V-6

The Acura Integra never had a V-6 in any form or generation, so we don't expect it to have one now. Moreover, the upcoming 2023 model will share a platform with the current Honda Civic and the Acura ILX compact luxury sedan – two cars that also never came with a V-6.

Jon Ikeda said that the new Integra will be a halo product. With that being said, we initially expected the car to transition into a higher segment and make use of the 3.0-liter turbocharged V-6 seen in the TLX Type-S. However, sharing a platform with the Civic and ILX means that the Integra will remain the compact sports coupe it has always been and will not feature a V-6 engine.

A 2.4-LITER INLINE-FOUR ENGINE

The K24Z7 is now the latest Honda/Acura powertrain, but it's one of the most proven ones. Currently, it can be had on the Acura ILX where it makes 201 horsepower at 6,800 RPM and 180 pound-feet (244 Nm) at 3,800 RPM. The old Integra was praised, among other things, for its high-revving, normally-aspirated engine.

Although this K24 isn't as rev-happy as the B18C engine, it would bring back some of that character. We expect the base version to come with front-wheel drive only and a six-speed manual. That said, you might be able to opt for an automatic as well.

THE 1.5-LITER TURBOCHARGED INLINE-FOUR MIGHT ALSO BE AVAILABLE

The 1.5-liter turbo-four is a well-known powerplant, used across the current Honda lineup.
Given that the [2022 Honda Civic->art190285] will still make use of the engine, there's no reason to believe the upcoming Acura Integra will not be using it, as well. In Si spec, the little four-banger makes 205 horsepower and 192 pound-feet (260 Nm).
It is with this engine, we expect to have the option of either an eight-speed DCT unit or the 10-speed automatic. This could either be a step up from the 2.4-liter unit or the base Integra engine. We still expect it to be front-wheel-drive only though.

A HYBRID VERSION IS ALSO IN THE WORKS

There's an obvious trend with Acura models, as the MDX and RLX already got their own "Sport Hybrid' versions, with three motors in addition to the internal combustion engine. With this in mind, a hybrid version using a similar setup will arrive at some point. We know this is coming since Jon Ikeda himself confirmed it.

However, he also said that, just like the Type-S, it will not be available at launch. The hybrid powertrain will most likely be focused around the 1.5-liter turbo-four, although the 2.4-liter unit is not out of the question either. This version will most likely be an all-wheel-drive and will probably be available as an automatic only.

The expected power output for the hybrid version is expected to be around 256 horsepower and 253 pound-feet (343 Nm).

THE TYPE-S WILL PROBABLY SHARE AN ENGINE WITH THE CIVIC TYPE-R

It's not yet confirmed, but if Integra is making a return, this is what we expect the performance version to come with. Currently, it's Honda's most powerful inline-four unit and we doubt Acura will use a less-powerful version in its halo product, especially given the fact that Acura is Honda's luxury brand.

Moreover, Acura has made a clear decision to go the performance car route, which is all the more reason to believe the 2023 Integra Type-S will come with 316 horsepower and 295 pound-feet (400 Nm). There's also a good chance that it will use Acura's Super Handling all-wheel-drive system, as it needs to differentiate itself from the Civic Type-R in more than just looks.

CONCLUSION

Since only a small part of what we just said is confirmed, we cannot be 100 percent sure which engines will make it. However, given Acura's recent trends and the fact that we usually get things right, based on different bits and pieces of information, we can expect to see at least some of these engines in one form or another. What do you think about the upcoming Acura Integra?